The following article is a guest article. We enlisted Portland, Oregon area family therapist Kaleigh Boysen to write us this article because we felt our clients and those looking for a divorce attorney could benefit from this information. We hope that it is helpful in talking to your kids about what they are experiencing and as you navigate the divorce process.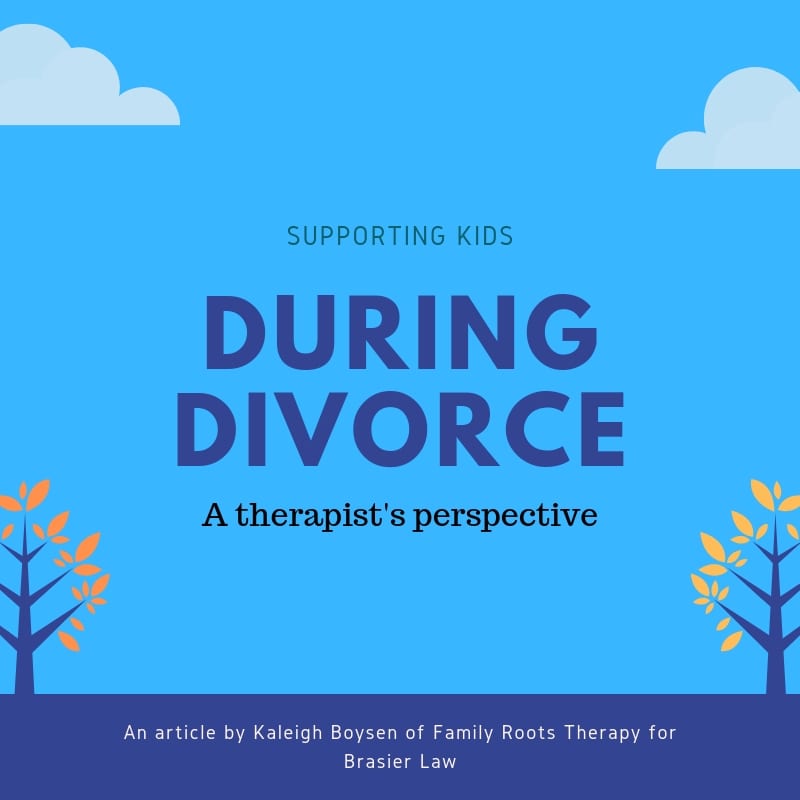 As a family therapist, I work with a lot of families going through the divorce process. Most parents want to support their children during this process, but don't know how to talk to them about divorce or aren't sure how much information is appropriate to share. Parents are also dealing with their own emotions around divorce and it can be hard to know how to support a child at the same time. Some parents feel protective of their children and fear the other parent may behave inappropriately. Whether you have talked openly about divorce or separation already or not, children pick up on tension and changes in the household and most likely already know something is wrong. Here are a few guidelines on how to talk to your kids about divorce and support them through the process.

1.Talk to your child in a matter of fact way about what will change for them and what divorce means. Stick to what this will mean for the child, not for your or your personal feelings about it. As much as possible, let them know what the schedule will be, what plans are being made to move out of the house or separate into two households, and whether they will change schools. For younger kids, reading books about divorce such as "Dinosaurs Divorce" can be a good way to explain divorce and continue the conversation.
2. Keep your child out of the middle. Decisions about the divorce process need to stay between the parents involved. It may be tempting to explain why certain decisions were made or express your anger or frustration about aspects of the divorce process, but it's important that your child be allowed to be a child and not be drawn into adult decisions or conflicts. Practicing a go-to response like, "That's for dad and I to decide" or "I'll talk to your mom about that" can be a helpful way to reassure children that they don't need to be involved in adult conflicts. Don't ask your child to be a "messenger" to the other parent or complain to them about your frustrations with the other parent.
3. Talk to an attorney and have a solid custody agreement. Many people are worried that hiring an attorney will make it look like they are trying to be contentious. That does not have to be the case. An attorney can help you understand the legal side of the divorce process, your rights, the court process or mediation process, and help you put together a custody agreement that fits your child's best interests. Many people think they can just be flexible and have no formal agreement, only to experience intense conflict later in the process when a disagreement arises. Even if you trust your ex-spouse and are willing to have a flexible arrangement, having an agreement to fall back on and good legal advice from the start gives you security in case something goes wrong later.
4. As much as possible, make agreements ahead of time with your co-parent. An attorney or mediator can help with this as well. While custody agreements will outline who can make healthcare or education decisions, there are also more personal decisions that can be discussed ahead of time to reduce future conflict. How soon should a new partner be introduced to children? How will you handle discipline between the two households? While you can't control what the other parent does, coming to an agreement ahead of time before some of these situations arise can reduce the likelihood of conflict in the future.
5. Have a regular "business meeting" to discuss concerns about the child, if at all possible. This can be done monthly, bi-weekly, or whatever schedule works for you and your family. Keep the conversation to topics concerning your child and their well-being. Have there been any changes in behavior at either household? Do you have any concerns about their development or their school work? Are there any needs that aren't being met? Voice concerns in a direct but non-blaming manner, focusing on solutions for the child and their needs, rather than as an accusation. For example, use statements like, "Johnny's teacher let me know he's not getting his homework in. How do you think we should handle this?" rather than, "You're letting Johnny play video games all afternoon and he's not getting his homework in on time. He always does his homework at my house." This can be done over e-mail if you aren't ready to meet face-to-face or if you prefer written communication.
Thank you to Kaleigh Boysen of Family Roots Therapy, you can find her at:
Website: www.familyrootstherapy.com
Facebook: www.facebook.com/familyrootstherapy
Instagram: instagram.com/famillyrootstherapypdx
If you are looking for more information about the divorce process we would be happy to help you. You can contact us at 1 (503) 855-4777 or by using the contact form below. We also have many articles about divorce and custody. You may find Planning for Your Divorce and The Top 5 Most Asked Questions About Oregon Custody helpful.
We would love to schdule a free consultation to discuss how we can help you with your family law needs. Our family law attorney will get back to you as soon as possible to discuss your needs. We have offices in Portland and serve Oregon and Washington. Thank you for your interest in our firm. The use of the Internet or this form for communication with the firm or any individual member of the firm does not establish an attorney-client relationship. Confidential or time-sensitive information should not be sent through this form.