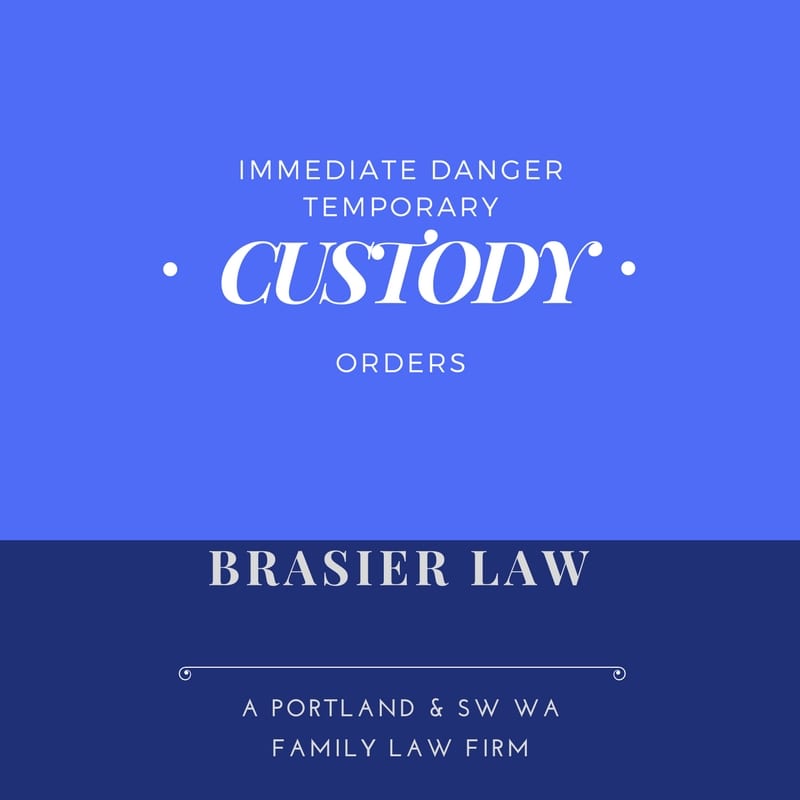 The state of Oregon allows parties to obtain, in limited situations, an immediate custody order when the other parent presents a danger to the child.  If you feel you need such an order, you will have to convince a judge that the child is in immediate danger in the other person's care.  You have to file a proper motion, along with an affidavit laying out the reasons for the danger, and you have to present these in person at an "ex parte" time.  You also have to have an existing custody or divorce case pending for this immediate danger order to exist underneath.
In most if not all situations, you also have to notify the other parent of what you are doing so they have an opportunity to appear and tell their side of the story.
These custody orders are designed for extreme situations, and are often overused by parents.  The language of the statute is simple, the child must be in "immediate danger", and the danger must exist "at the time you file your motion".  It is a good idea to consult with a custody attorney if you intend to seek such an order, if for no other reason than to be sure you don't lose based on a technicality of some kind.
First Time Custody Cases Versus Modifications to an Old Custody Order
The amount of evidence you need is different if this is a first time custody case, versus a modification to an old order.
For people in their first round of litigation, meaning this is an original custody or divorce case, not a modification of an old order, the chances of success are better.  These are what we call "pre-judgment immediate danger orders".  In a pre-judgment immediate danger order, your job is to convince a judge that the other parent poses such a threat, by what we family law attorneys call "a preponderance of the evidence".  In simple terms, this means you need to convince the judge that it is "more likely than not" that what you're saying is true.  In other words, if you can convince the judge that it is 51% likely you are telling the truth and the danger exists, and 49% likely there is no danger, then you would win.
It is a good idea to come to court prepared with whatever evidence, documents, or witnesses you have supporting the claim of danger.
However, when people are proceeding with a modification to an old order, they tend to have a harder time getting an immediate danger order.  If there is a prior custody order in place, then you would seek to get what is called a "post-judgment immediate danger order".  The only real difference here worth discussing is that you have to prove the danger exists by what is called "clear and convincing evidence".
Basically, for people who have already gone through a custody case, they make it intentionally harder for someone to get such an immediate danger order.  "Clear and convincing" doesn't have as precise a definition, but it basically means you need some pretty solid evidence.  This is up to the judge's interpretation somewhat, but it basically means you need to convince a judge more strongly than just the 51/49% we discussed for the pre-judgment orders.

Tom Brasier is an experienced Portland family law attorney focused on providing high quality work tailored to meet your needs. He provides divorce, custody, restraining order, and other family law services to the greater Portland, Oregon and SW Washington areas. You can reach him by calling 1 (503) 855-4777 or by using the form below.
We are now on social media, follow us on Facebook, Instagram, Twitter, and Pinterest.