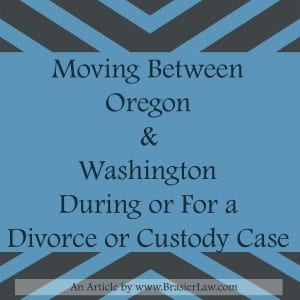 Sometimes a situation arises with parents in the Portland metro area where they are trying to decide where to live, between the Vancouver area or the greater Portland area.  If you are anticipating a custody fight with your spouse, the choice of where to live can have a significant impact on the outcome of your child's routine and life.
In recent
articles
I have outlined the different ways in which
Oregon
and
Washington
treat custody decisions.  There are two things to be aware of.
Moving Between Oregon and Washington During or For a Divorce or Custody Case: Does it Change Anything?
First, absent emergencies or abnormal circumstances, jurisdiction can only lie in a state where the child has lived for the last 6 months.  That means that if your case is about to start, and you can't delay it, it does not help you to move to Portland from Vancouver or vice versa at the eleventh hour.  If you have questions about jurisdiction, meaning which state you can bring your case in, you should consult with an attorney immediately to find out more on how to proceed with your case.
If you are in a situation where you have the luxury of planning a move knowing a divorce or custody case is going to happen in the future, the impact of the different states' laws on custody and parenting time decisions should be considered.  As the laws differ, for some people it will be better to litigate in Washington, and for some Oregon.  An attorney licensed in both states is the only reliable source for advice on how that decision can impact your children's lives. So before making a decision about a move in order to change divorce or custody outcomes please consult with an attorney that can guide you on if that will be a good move for your individual situation.
If you are planning a move out of Oregon or Washington and already have a parenting plan in place you may find the article Moving Out of State with a Parenting Plan in Oregon or Washington helpful.
Of course you can get the best advice by making an appointment for a free consult with our Portland divorce attorney. We can examine the intricacies of your particular case and advise you on a plan of action. Give us a call toll free at 1 (855) 328-9108 locally in the Portland Metro area at 1 (503) 855-4777, or feel free to e-mail us with any question or to set up a meeting.

Tom Brasier is a family law attorney in Portland, Oregon and is also practices family law in SW Washington. He specializes in divorce, custody, spousal support, and restraining orders.
We would love to schdule a free consultation to discuss how we can help you with your family law needs. Our family law attorney will get back to you as soon as possible to discuss your needs. We have offices in Portland and serve Oregon and Washington. Thank you for your interest in our firm. The use of the Internet or this form for communication with the firm or any individual member of the firm does not establish an attorney-client relationship. Confidential or time-sensitive information should not be sent through this form.