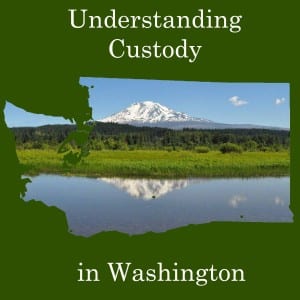 The State of Washington treats the term "custody" differently than many states. While many states put the focus in a parenting dispute on the determination of "legal custody", Washington puts the focus on "primary residential placement". In fact, what many states refer to as "custody", being the placement of the child with a parent and the right to make decisions, Washington splits into its components as two unique decisions.
As a part of determining custody in Washington, the courts and parties are charged with determining which parent will be listed as the "primary residential parent", and what the division of "decision making" will be.
The Residential Parent in Washington
Often times, a child, following a custody dispute will be placed in the primary care of Parent A, with a detailed
parenting plan
which was ordered specifying the days and times the child will spend with parent B. While one parent is usually listed as the primary residential parent, there are circumstances where a true 50/50 split equally sharing residential placement can either be ordered by the court and/or agreed to by the parties.
Decision Making Concerning the Child in Washington
With respect to decision making concerning the child, often times parties will agree to split joint decision making. When decision making is split between the parents it basically means each parent will make the decisions impacting the child while the child is in their care and they will work together to discuss and agree on major decisions impacting the child. The law certainly allows for one party to be awarded sole decision making, but if the parents can work together that is often better for a child in the long run.
As you can tell by looking back at last week's article about custody in Oregon, the terminology is very different in Washington state in regards to child custody than in Oregon. As people often move between Portland and Vancouver, Washington (and Clark county) due to their proximity it can be important to understand the differences between custody in Washington and Oregon. Hopefully these two articles have helped to established a base knowledge about custody in Washington and Oregon.
If you are looking for more information about what to do if you already have a parenting plan and are now planning a move out of state the article will be helpful.
As always it is important to consult with a family law attorney to find the best solution and advice for your particular situation. Our Portland divorce attorney Tom Brasier is licensed in Oregon and Washington and can help you with the intricacies of a move between the two states.

Tom Brasier is a family law attorney in Portland, Oregon and is also practices family law in SW Washington. He specializes in divorce, custody, spousal support, and restraining orders.
We would love to schdule a free consultation to discuss how we can help you with your family law needs. Our family law attorney will get back to you as soon as possible to discuss your needs. We have offices in Portland and serve Oregon and Washington. Thank you for your interest in our firm. The use of the Internet or this form for communication with the firm or any individual member of the firm does not establish an attorney-client relationship. Confidential or time-sensitive information should not be sent through this form.